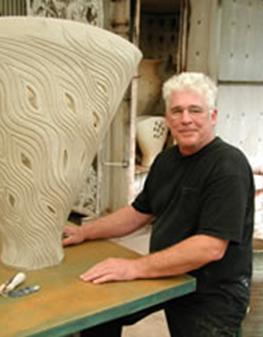 We just returned from a beautiful visit to Maui. My husband Ron lived there 30 years ago and still has friends there we visit when we go. This time we had the opportunity to see Tom Faught, an impressive ceramic artist. I had been wanting to meet him since I love the two pieces of his we have in our home. His work is unique and large.
Tom started doing ceramic art as a boy and sold commissioned works he created to put himself through college. He has had his studio and foundry in Maui for over 30 years near the Hui No'eau Visual Arts Center and has created many large works of art and sculptures which can be found through out Maui. I especially loved one large vessel taller than I am and bigger than I could put my arms around.
We are so grateful to have had this opportunity to visit with Tom as he is now dealing with his mortality and pending transition. He has been dealing with cancer for awhile now, and he touched us deeply with his positive beautiful attitude.
Tom's large studio is situated on a lovely piece of property surrounded by lush tropical vegetation. He has several small buildings on his compound which house other artists and his son, and he lives in one with his wife who he calls his angel. Tom is surrounded by friends and artists in a way that makes me think of tribal living. For example, when climbing down from the loft where he slept became to difficult for him, his people came together to build an addition to his home to make his life more comfortable.
The joy Tom radiates as he talks of his life while being an excellent host was an inspiration to me to live my days fully and to appreciate each moment. He exudes appreciation for a life well spent with his angel wife, his family, and his friends while having the opportunity to create beautiful works of art for which he will be remembered for many years to come.
Thank you Tom for you art, your beauty, your joy, and the sweet spirit you shared with us.
You can learn more about Tom at his web site: www.tomfaught.com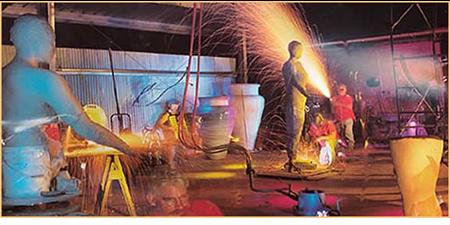 2 Responses to "The Art and Spirit of Tom Faught"