I recently learned about a project that singer Tony Bennett & Susan Benedetto created in New York called "Exploring the Arts: Transforming the Lives of Young People Through Arts Education." This program started from a high school they created in New York City. "The founding of Frank Sinatra School of the Arts, a New York City high school where students pursue an equally rigorous arts and academic curriculum. It was very important to us that this be a public school, accessible to all children, regardless of their need or background, and it is with great joy that we have watched the school's students achieve at such extraordinary levels since the school first opened in 2001."
Their success with this project led them to create Exploring the Arts where they can serve many more students. You can read more about this project at http://www.exploringthearts.org/
I believe supporting education in the arts is vital to the health of our nation. Art is a part of everything in our lives from the music on the radio, the painting on the walls, the architecture of our buildings, the movies we see, and just about everything we look at. In these days where arts programs have been and continue to be drastically cut in public education, it is vital that we all find ways to be sure that we all have access to art and art education.
Be creative. Find a way today that you can contribute to the growth of art. It can be as simple as contributing to a project like Exploring the Arts, or buying a ticket to a local Arts Council fund raiser, to attending a high school play or concert. Please just do something!
Each day, look around you and be grateful for the art you see. Art so greatly enhances our lives.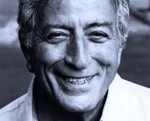 10 Responses to "Tony Bennett and the Arts"