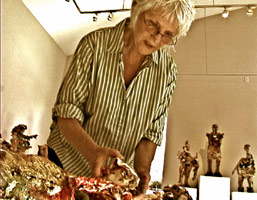 I met Sierra when she came to the Ventura County Potter's Guild gallery and store and the Ventura Harbor Village. I was so impressed with her energy and passion, that I set out to find out more about her. I am including here her bio from her website, a video on a grand project she is pursuing, and some of her work for sale. Enjoy!

Sierra Pecheur, was born in Honolulu, Hawaii. Her first language was Japanese. After the bombing of Pearl Harbor, she was evacuated to the East Coast with her mother and brother. She attended grammar school in Manhattan and high school in Carmel, California. Pecheur studied art and philosophy at Pomona College in Claremont, California. After two years, she had taken all the available studio art courses and she transferred to The San Francisco Art Institute. She left SFAI to work in Paris, after which she moved to New York City.

Pecheur has been a visual artist since 1963. In 1968, she began appearing in Off Off Broadway productions; acting became an integral part of her artistic career. In New York City, Pecheur worked principally with John Vaccaro, director of the Play-House of the Ridiculous. When she moved to Los Angeles in 1973, she began working with Robert Altman. While Vaccaro and Altman had very different creative styles, both of these master storytellers taught Pecheur that there is no wrong way to tell a story. Commit absolutely; go where the story leads. Any unworkable aspects will be forced out one way or another. Since 1999, Pecheur has devoted herself exclusively to her sculptural practice. However, theatrical story telling continues to have a lasting influence on her art.

Until 2003, Pecheur's body of work focused on the telling of short stories. In 2004, she decided to investigate a larger story, one that could be explored indefinitely. The first presentation of this new creative direction, Dig: An Imagined Archeo-logism, debuted in the spring of 2008 at XIEM Gallery in Pasadena, California. Dig was an installation of nearly 900 ceramic sculptures, including 850 skulls and bones. Resembling an archaeological site, the work invited viewers to question certain culturally accepted myths, and to consider the possibility that these myths were actually propaganda.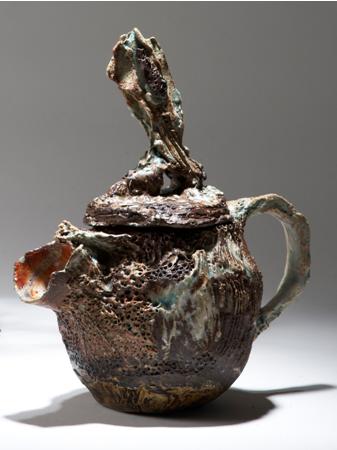 Small Tea Pot Mixed clays 8x8x4 $75.00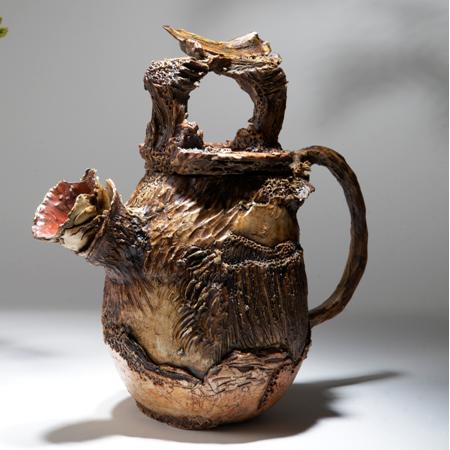 Large Tea Pot Mixed Clays 10x11x6 $125.00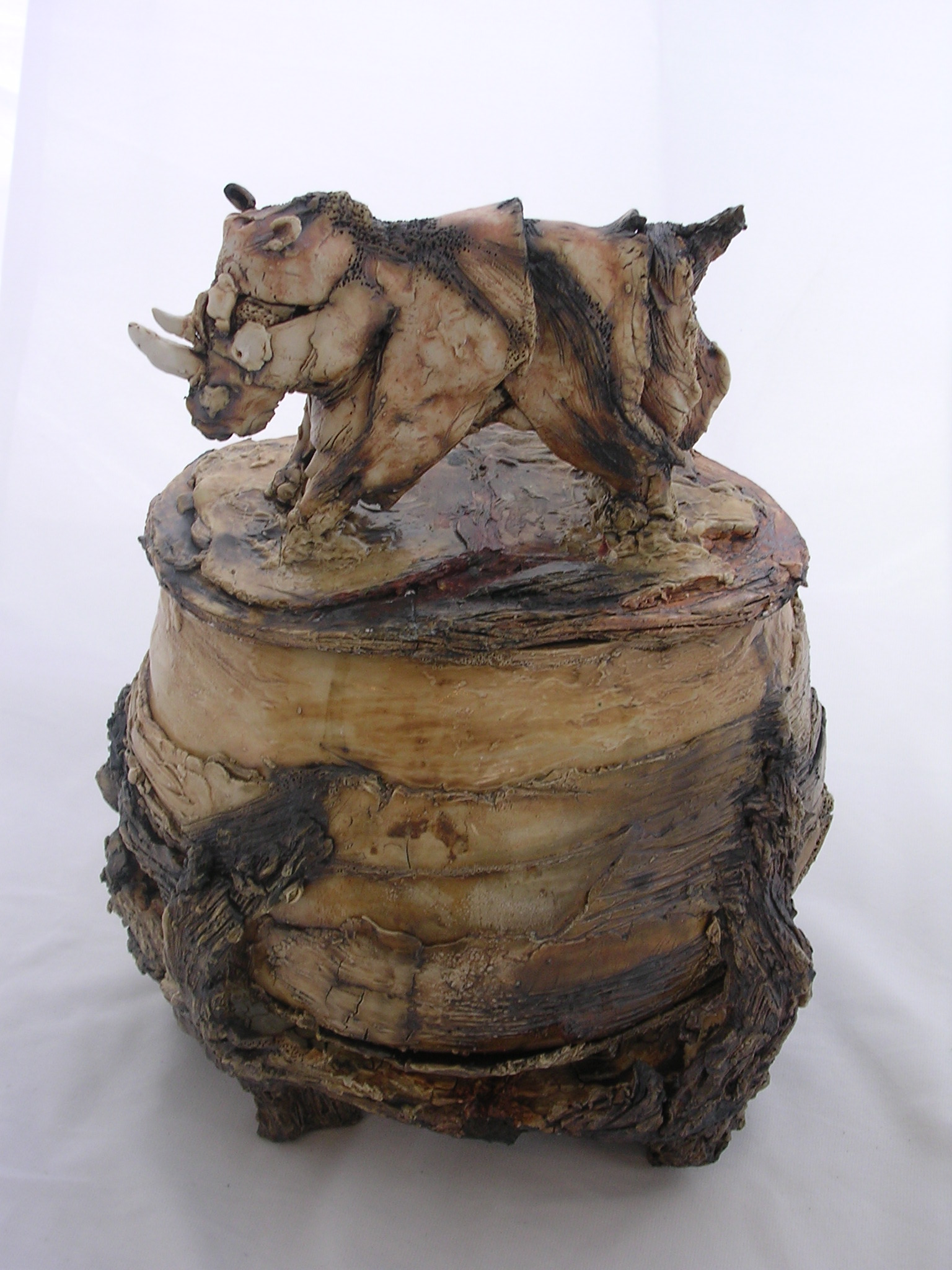 Rhino Canopic: porcelain 17x13x9, $1,500.00

Unlike the Egyptian canopic jars which held the viscera of the departed. The Canopic Jars, for DIG: An Imagined Archeo-logism, house the incandescence of the human spirit.

The Rhino stands for blind forward motion, does not forget the past.
One Response to "Sierra Pecheur"