Art Heals
When Linda Elder was walking one day, the impact of the vehicle that hit her sent her flying into the next block. Her odyssey of recovery and discovery started at that point. With medical bills piling up, Linda and David, her husband, decided to start fresh by selling their house to pay the medical bills, then they used the money that was left to buy a piece of property where they would build their new home. Linda didn't realize, however, that David really meant to build their home. The hammered each nail themselves which turned out to be the best rehabilitation from her accident Linda could ever have imagined.
The property Linda literally fell onto while walking on her crutches to help gain her strength back was a lot on Vista Del Mar Drive which was a Chumash Indian meeting ground which overlooks the ocean. Being sensitive to the heritage of the land, they named their house Chrystal Hawk because of the healing energy of crystals and the hawks that sit on the Monterey Pine tree on their property.
Because power tools and pain pills don't mix, Linda learned to deal with her pain while learning leverage to lift heavy wooden beams. She was able to concentrate on the beautiful Bas relief sculpting she did around the doors and windows. The Interior Design program at the University of California at Santa Barbara was so impressed with her work that they hired her to teach Bas relief for them for 9 nine years.
The house is full of Linda and David's amazing sculptures including some you can see from the 101 freeway close to San Jon Road. Look up on the cliffs to see a Native American warrior overlooking the freeway/ocean. Their home contains two big art studios. At the front of the home stands a giant totem reflecting the story of the home from the Chumash petroglyphs at the bottom, to the flowers grown on the property, to the cornucopia of fruits and vegetable which can be found there to the dolphin of Chumash legends, to the Chumash woman giving thanks, to the hawk on the top. Spectacular!
Linda spends her time now teaching 1000 children how to do sculpture through the Boys and Girls clubs. She goes into the schools to teach children how to sculpt their own pieces using materials they can easily find. She wants the children to be independent with their art not needing anyone but themselves to explore their creativity. Concerned about the mounting cuts to arts in education, this is Linda's way of giving back. She also teaches sculpture to anyone interested from beginners to advanced at the studio at her home on Fridays. Read more at their web site.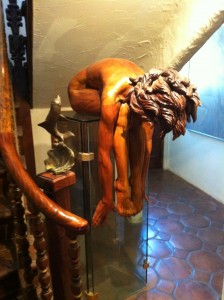 8 Responses to "Linda Elder Sculptor"