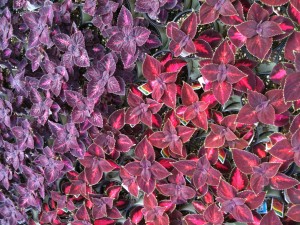 I had a wonderful experience yesterday.  Our new neighbor is a landscape contractor, and he took us to his grower east of Ventura to find plants for the garden in out new home.  Do Right's is a beautiful, big grower nestled between the hills in the Santa Paula valley.  Row upon row of green houses were filled with vibrant plants and flowers in all stages of development.  We picked out some lush ground cover, a variety of coleus, several hibiscus, Gerbera daisies, and begonias.
We are in the process of planting them all, making our garden serene and Zen like.  I was struck at the growers with the intensity of the color palate ranging from deep purples, to bright yellows.  I was amazed with the variety of the different shades of red!  Planting in the garden is like painting with a living medium.  What a joy!
Take time today to look at nature.  See how many shades of green you can identify. Notice how we may think of leaves as green, but they may also have yellow, red, orange, and brown. And notice how all the colors work together beautifully to create the vital art which surrounds us.
Sign up early for the Ventura/Ojai art tour that The Heart of the Artist is hosting.  Enrollment is limited, and you won't want to miss this!
Subscribe to our newsletter by entering your email in the space on your left.
16 Responses to "The Art of the Garden"