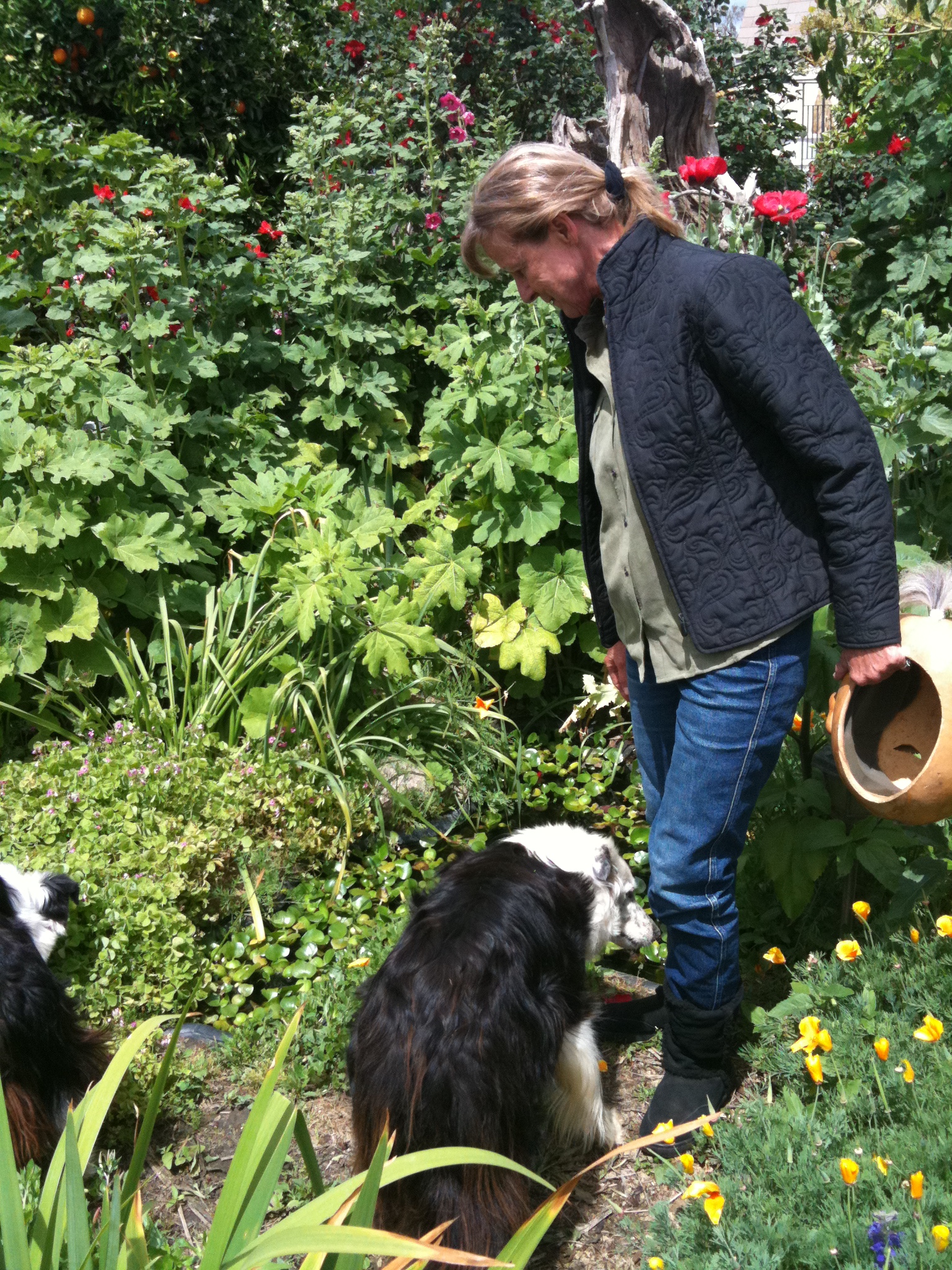 Betty Finch's gourd art defines unique. When my friend first told me about this gourd artist, I could not have imagined what I would see. Betty's love of botany, of horses and dogs, of art and her delightfully pleasant personality all combine to bring her gourds to life.
The Bakersfield Museum of Art hosted a show sponsored by Bernie and Joan Herman and KERO TV Channel 23. The show is full of life-like people and animals, and even a beautiful chess set. Betty was thrilled to find 4 deformed gourds that looked like knights in a chess set, so a chess game was created.
Betty had led a fascinating life as she reflects in her artist's statement:
"Betty Finch was born in Indiana, raised in Mojave, California and currently resides in Bakersfield, California.
Her parents, Robert Shaneyfelt and Margaret Virtue met in art school. Her father taught art for 30 years. As the forth child of nine Betty spent much of her childhood playing in the desert with toys she made using primitive tools, natural clay and plant materials. Betty claims to have inherited her artistic ability and believes her brain was hard-wired from a young age to create using natural materials.
Growing up Betty imitated Lewis Pasteur experimenting with plants and selective breeding.
For two years of her early adult life Betty was homeless. During this time she put herself through college working nights as a waitress, attending classes full-time during the day and sleeping in park bathrooms, on campus, and under bridges.
Betty worked as a Commercial Artist for two years before beginning a 25 year career with the Kern County Sheriff's Department. Her assignments included patrol, Homicide Detective, CSI Unit Supervisor, creating the Computer Forensics Lab, grant writing, 12 years as a SWAT Negotiator, and 15 years as the department composite artist. Betty studied suspect composites at Scottsdale Artist's School and attended the FBI National Academy in Quantico, completing the Facial Imaging Course on skull reconstruction.
Betty's interest in manipulated gourds prompted her to travel to Indiana to meet her mentor, master gourd trainer, Jim Story. After retirement she traveled to China to learn from Mr. Zhang Cairi, a molded gourd artist renowned for his perfect replications of the molded gourds of Chinese emperors. This led to her co-authoring "the Immortal Molded Gourds of Mr. Zhang Cairi to preserve this unique art form.
Betty now devotes her time to generating new flower varieties, raising Appaloosa horses, Border Collie dogs, garden experiments with molded and hand-trained and dyed gourds, and creating fine art with gourds."
"My mission is simple I work in partnership with nature to transform compelling visions into reality." --- Betty Finch
Three of Betty's art pieces are listed for sale below here.
Much of Betty's work is currently included in her show at The Bakersfield Museum of Art. If you are interested in a purchase other that the three listed below, please contact Emily at The Heart of the Artist.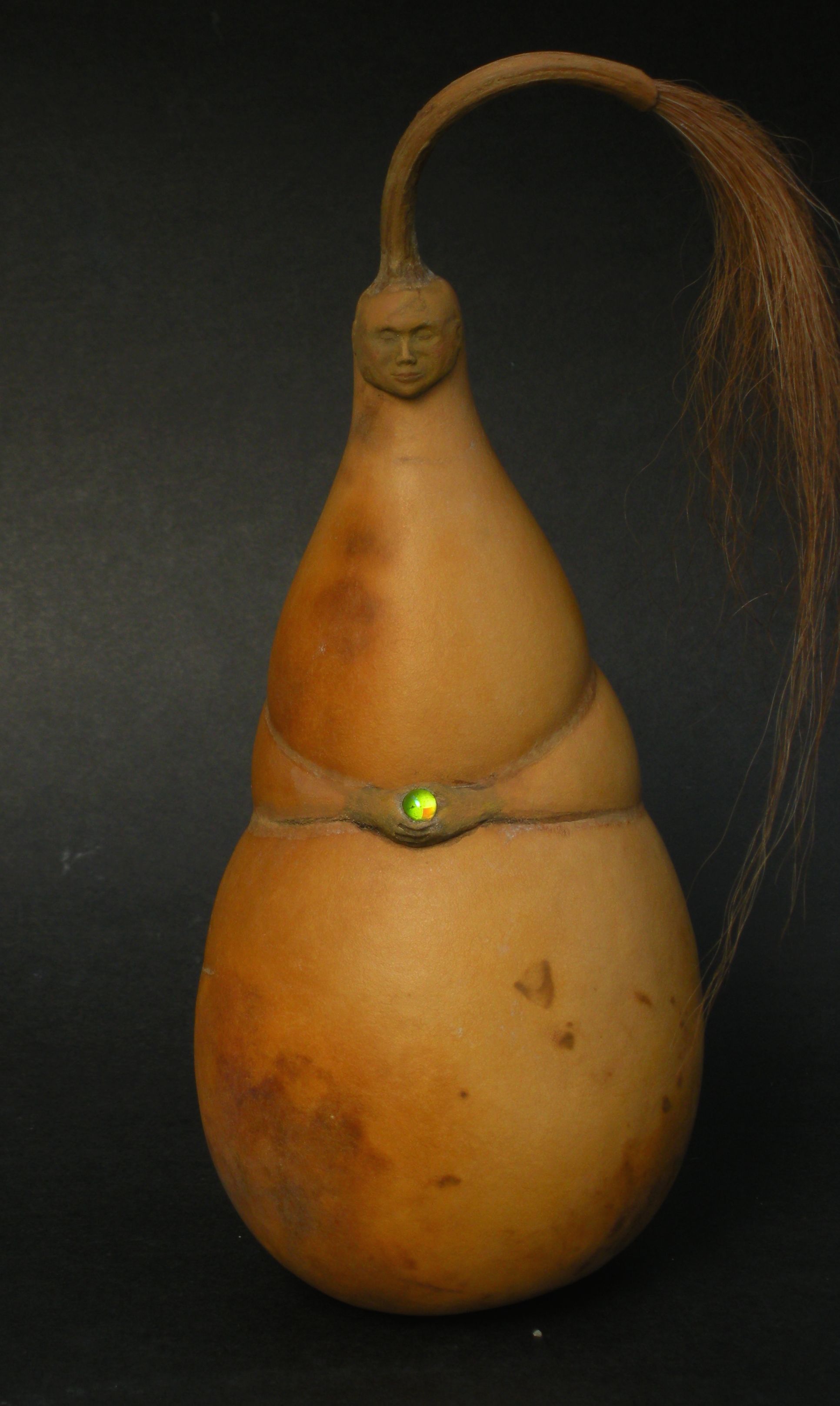 "Meditation Stone"

Bound gourd, clay hands and face, diachronic glass, miniature horse hair, acrylic paint. Dimensions: 8"x4"x4", $230.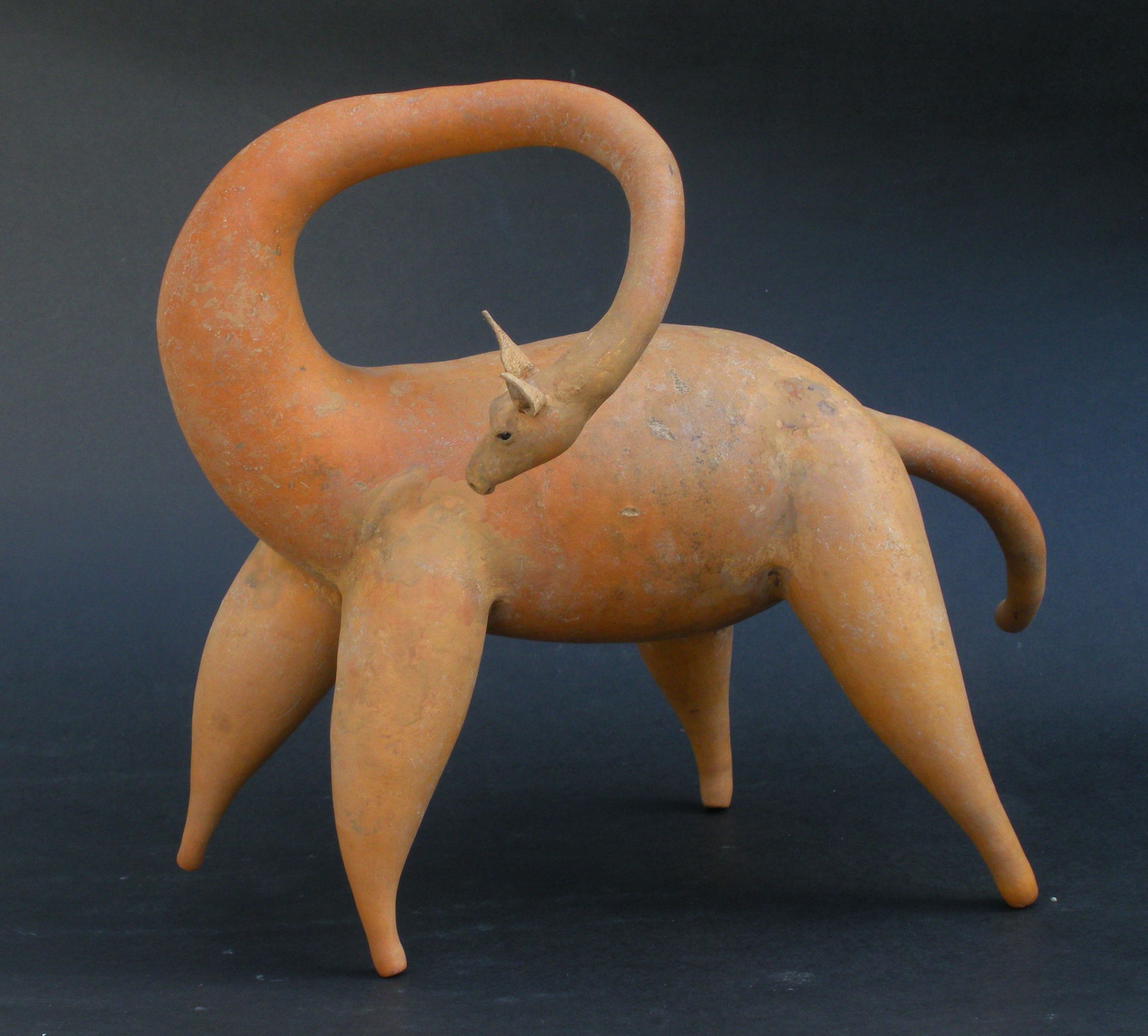 "Hindsight"

Assembled gourds, 4 Banana Gourds, 2 Penis Sheath Gourds, 1 Miniature Nigerian Bottle Gourd, glass eyes, clay, leather ears, glass eyes. Dimensions: 8.5"x11"x6", $345.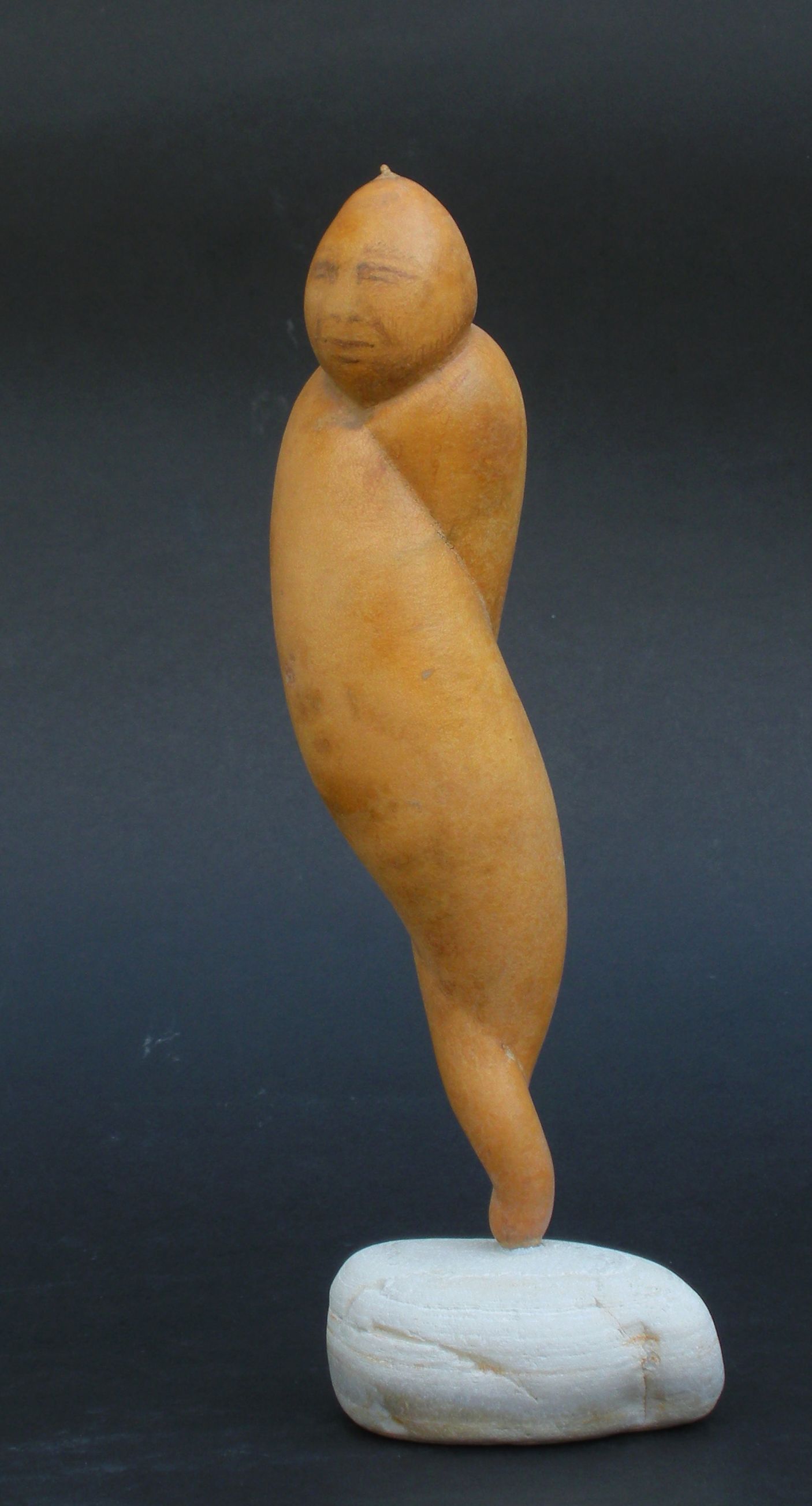 "Rise"

Bound Banana Gourd, pyro-engraving, sandstone. Dimensions: 8.5"x3"x2", $200.
3 Responses to "Betty Finch"