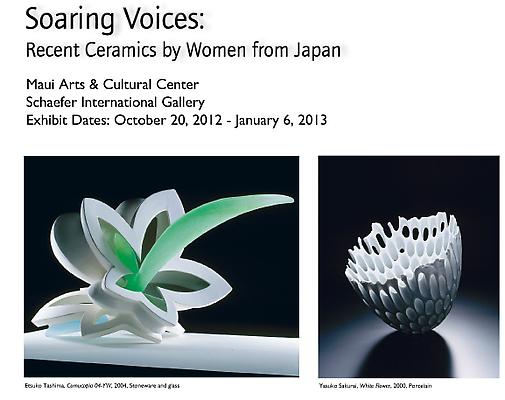 Serendipity brought me to Maui, Hawaii just in time for Soaring Voices at the Maui Arts and Culture Center. This show of contemporary Japanese Women ceramic artists opened with three days of lectures and demonstrations I was able to attend. As a female American ceramist, I realized how much I take for granted.

Maui is the last stop for this show that has been running internationally for four years in fourteen venues featuring a total of 87 works by 25 ceramists. In Japan, ceramics have a long history of beautiful, functional ware created by men. Only since World War II have women been allowed to create ceramics at all. Historically, women were not allowed to touch the kilns because women were considered unclean. While the oldest son of every potter was taught the trade from early childhood, the girls were groomed for homemaking and child care. After the war, large community kilns were banned because of pollution, so this afforded the opportunity for women to create ceramics if their husbands had kilns at home.

Now there has been a dramatic shift. Currently ceramics programs in universities are dominated by women professors and a ratio of 4 female students to every male. However, the ratio of women Ceramists is not as high after graduation because many still enter the field of wife and mother. Professional women Ceramists tend to not be married or have children, and they also tend to work in isolation. And their work is generally sculptural instead of functional.

These women follow the modern Sodiesha ceramic style where their works are non-functional. Most of the works do not have an opening so they will not be considered vessels and confused with functional ware. This style is the antithesis of Mengei which is folk art showing the beauty in ordinary objects. The Sodiesha style often uses Mitate which uses many layers placed on top of each other so that the work resembles something that is used for something else entirely. For instance, a banana may represent a crescent moon.

The work of these contemporary artists is influencing the style of ceramics world-wide and a position apprenticing or studying with these women is highly coveted. Becoming a collector of contemporary women created ceramics is very much in vogue, with these pioneering collectors influencing new works by developing their focus and interest in specific artists. The collectors are making a major revolution in what is created.

Currently many museums hold a prejudice against ceramic works considering it not art, but this show is creating a shift in that thinking. Many of the Ceramists in the show have garnered solo shows and sales world-wide as a result specifically from their work being in this show.

I am privileged to have the opportunity to see this exquisite art and meet 11 of the 25 Ceramists as they met each other for the first time at the show in Maui. Two have died since the show started four years ago. I am much inspired and grateful for the opportunity I have to create any ceramic work I want to. And I am impressed by these innovative artists and their beautiful work.

Soaring Voices can be seen at the Maui Arts and Cultural Center through January 6. If you are in Maui between now and then, don't miss it!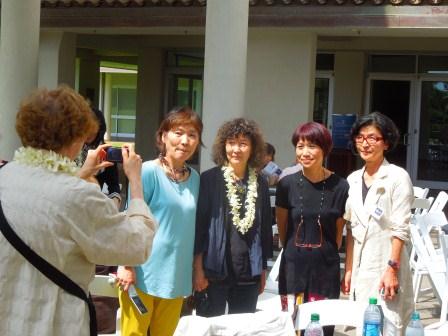 Lots of pictures were taken since this was the first time most of the artists in attendance met.
For lots more pictures, see the website for International Arts and Artists who did the booking for the show.