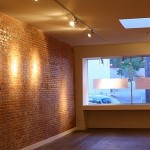 Get ready, Ventura! An amazing opportunity is coming up for artists and patrons of the arts. Sylvia White, who recently won the Ventura Mayor's award for Creative Entrepreneur,
is the owner of the prestigious Sylvia White Gallery and the consulting firm, Contemporary Artists Services. Described as an "artist guru, creative business leader and social network creator," Sylvia has worked with hundreds of artists both locally and around the globe. Now she is using her creativity to come up with a new project for Ventura.
Through pure serendipity, Sylvia had the opportunity to meet the man who owns the block on Main Street across from the mission and close to the museum. In their conversation, Sylvia said that what that location could really use is art. A current popular trend in art cities like New York is to rent wall space to artists. Because artists aren't in shows all the time and trying to find stores who want to sell the work of artists is difficult, and frequently not fruitful, artists are thrilled to have a place where they know they can get their art seen. Then people who want to purchase art can have a place to go where they can find a range of new works. Using this concept, Sylvia suggested that they use one of the empty stores as a gallery when artists could rent space to be seen. Thus, Arts on Main was created at 242 East Main Street in downtown Ventura. This experiment will run through at least this December.


Now it gets more exciting. With a 5,000 square feet building two doors down from Arts on Main at 242 Main Street, Sylvia suggested the idea of creating a combination space of artist's studios, a gallery with regular shows, and wall space for artists to rent wall space. The concept is somewhat like Bell Arts which is right around the Corner on Ventura Avenue. Sylvia came up with the name for the space as MASS, Main Street Art Studio, because she sees it as an unedited place where any artist, in any medium, can create their own space to work. It suggested to me, art for the masses. This ideal location will bring art to everyone, an idea we don't see often enough. The concept makes the art experience available to the public who walk through the area.


Arts on Main and MASS combined with the WAV, the museum, Bell Arts, and all the artists' studios on Ventura Avenue to strengthen Ventura's art district and make it a destination for tourists and local people alike. Sylvia is seeking artists to participate right now. This is an awesome opportunity to be part of the creation of a real artists' co-op. Those who get on board from the beginning will be in on the planning and design of the space which could include anything from a photo lab to a kiln to a glass blowing area depending on the desires of the first artists to be involved. Contact Sylvia now at Sylvia@artadvice.com