I received the following message from Sylvia White and just had to pass it on.  John is such a cool artist and delightful man, and I think this is a great way to support him and the arts! Let me know what you think.
Emily
"Dear Friends,
I am thrilled to announce we have confirmed plans for a major retrospective exhibition curated by Betty Ann Brown, Ph.d. Lifelines: John M. White, will be on view at the Armory Center for the Arts in Pasadena, March 27 through June 5, 2011.  The exhibition will be presenting a major survey  of John's Performances, Installations, Sculptures, Paintings and Drawings from the last 40 years.  Additionally,  John will be included in three other important exhibitions next year.  California Art in the Age of Pluralism: 1974-81, curated by Paul Schimmel will be opening at MOCA, Los Angeles in fall 2011,  Andrew Shire Gallery will be showing new work in an exhibition curated by Peter Frank in September 2010, and 1969-1973 Project,at Pomona College Museum of Art, which will document the importance of John's early performance work. This show will be accompanied by a catalog with essay by David Pagel.
White has made a significant contribution to California art for more than four decades. An innovative and highly respected performance artist, accomplished painter, sculptor, and inspirational teacher, White has exhibited consistently to overwhelmingly positive reviews. In spite of his remarkable accomplishments, White's groundbreaking oeuvre is not nearly as well known as that of many of his contemporaries. This retrospective exhibition seeks to locate White's work in the place of prominence it deserves.
We are seeking donations to support a significant catalog to be produced in conjunction with the exhibition.  Donations of any size will be graciously accepted and all contributors will be invited to a special preview reception.  For your convenience, you may use the Paypal link to pre purchase a signed catalog  by making a minimum contribution of $25 or more.
Armory Center for the Arts, is a 501 c (3) non-profit arts institution and as such, all donations made directly to them are fully tax deductible.  In addition, John has generously offered to contribute a piece of art to everyone who makes a major donation. This is a remarkable opportunity to collect some of John's art while making a tax deductible contribution to an important not-for-profit arts organization. Those who donate $500 will receive a signed print from John's whimsical Mindfield series. For each $1,500 contribution, donors will receive a painting from fascinating Deep Seascapes series. Donors of $5000 or more will be able to chose from the colorful and engaging Artifishial Hatch series. For donations of $500.00 and above, please contact Sinéad Finnerty-Pyne (sfinnertypyne@armoryarts.org) at the Armory directly, 626.792.5101 ext 116. As soon as your donation is received, you will be able to meet with John at his studio in Ventura and select your work.  You may also visit his website to preview available work, www.johnmwhite.com.
Thank you so much. With your help, we can make the retrospective catalog of John White's important work a reality.
Sincerely,
Sylvia White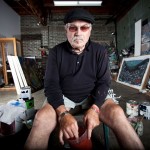 One Response to "The Art of John White"