Though the deadline has passed for the reservations for the Ventura/Ojai Art Tour, we still have a few spaces available.  If you are thinking about coming, sign up today at http://www.theheartoftheartist.com/art-tours/ or call 661-428-3610.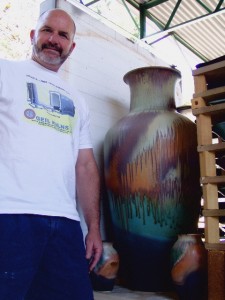 This week's mini-tour for the upcoming Ventura/Ojai Art Tour will introduce you to Frank Massarella, ceramicist and owner of Firehouse Pottery and Gallery in Ojai.  Frank started with clay in high school and has loved it ever since.  He has transformed an historic firehouse into a studio and gallery in Ojai where he creates his beautiful, unusual, functional pottery and teaches others ceramics skills in his world class school.
"I love to manipulate the pot, to make a perfect form and then manipulate it," he said. 'Doing it year after year I learn how far you can take the clay. If you think you have the form down, just tweak it a little bit.'
Most of his pieces can be identified by a swirl in the center. 'You see the swirl throughout nature,' Massarella said. 'It has a kinetic appearance so I started doing it. I moved it onto the surface of the pot and made it more abstract. It's constantly evolved, it's endless. I like to enrich the surface with decoration and glazes.'
He often uses a technique called slip trailing, where he runs a line of soft, liquid clay on the outside of the piece, giving it an extra dimension. 'I started to do that as a separation of color,' he said. 'It just evolves. When you do 200 to 300 pieces a week you do a lot of experiments." His experimentation includes new glaze combinations or formulations. 'That is what keeps the passion alive for me,' he said. 'If I had to do the same thing every week I don't think I could do it. Every week when I open that kiln it's still like Christmas.'" Quoted from an article by Nicole D'Amore, Correspondent Special to The Ventura County Star.
Sign up today for the Ventura/Ojai Art Tour at http://www.theheartoftheartist.com/art-tours/ Where you can also learn more about Frank and the other Artists and Venues on the tour. Send any questions to emily@theheartoftheartist.com