In researching artists for The Heart of the Artist web page, I have been meeting exciting, talented artists.  Getting to know them and chatting about their inspirations has been a wonderful experience.  In order to share this with the fans of The Heart of the Artist, I came up with the concept of hosting art tours, and our first tour will be June 4, 5, and 6.  We'll tour the WAV, Working Artists in Ventura, project that I blogged about a few weeks ago, and we'll meet Teal Rowe, the glass artist I blogged about.  In addition, we'll visit the Bell Arts Factory complex of studios and galleries, we will visit Stoneworks Studios, Firehouse Galleries, and visit the studios of artist/photographer Valerie Lewis and sculptor Sandy Wolk. And there will be more opportunities in store!
I hope you will consider joining us for this tour.  You can sign up at http://www.theheartoftheartist.com/art-tours/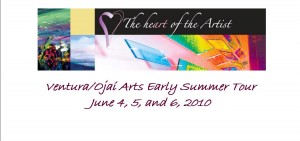 We are also planning future tours in Santa Barbara and Santa Cruz.  If you know artists there you'd like us to contact, please let us know.  And let us know of other places you would like us to lead tours to!  This will be an exciting venture for all involved, and we look forward to your pariticpation.
Be sure to sign up for this blog by entering your email in the Newsletter sign up box in the column on your left.  And let me know of topics you'd like me to address or artists or mediums you'd like me to research.  This blog is for you!
16 Responses to "Art Tours"